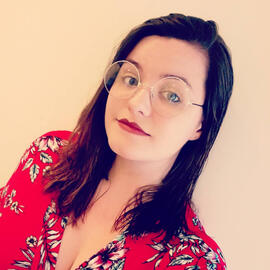 Naomi Clarke
Writer | Podcaster | Creator
---
Naomi Clarke is a prolific scriptwriter most well known for her work on The Secret of St Kilda. The audio drama has garnered over 100k listens, 12 AudioVerse awards (including Best Writing), and festival nominations worldwide. With over 100 podcast credits, there's very little she can't do. Whether its production, performance or promotion, Naomi always commits to the bit 100%. Interested? Get in touch!
Writer
Credits
Awards
The Secret of St Kilda 28 Finalist Nominations in the 2022 Audio Verse Awards (including Best New Production, Best Writing and Best Voice Direction) | Silver Award Winner, Best Fiction Podcast at the 2022 NZ Pocast Awards | Finalist Best Audio Drama at 2023 Cusco Webfest | Featured in The Inagural Podchaser 25 and the following month.

Writer Duet Screenwriting Throwdown Semi Finalist 2021, Quarter Finalist 2022
"One of the best writers I've ever worked with. As an editor for multiple TV shows, films and commercials, Naomi is by far the easiest to work with. she understands the task at hand, producing excellent work every time."
-Scott McCartney, Glasgow Film Crew
Podcaster
Credits
"Naomi Clarke knows exactly what she's doing during play, deliberately pushing the story where it needs to go and supporting the collaborative narrative whole-heartedly. Also she's too funny, this much talent should not be allowed." -Shamini Bundell, RPGeeks
Creator
Naomi is a relentless creator and an enthusiatic contributor. She has worked in education, event management, communications and has two science degrees. As a voracious learner, if she doesn't know how to do it yet, she will tomorrow. Interested? Get in touch!
Need Something Else?
Research

Event Organizing

Audio Editing and Soundscaping

Video Editing

Narrative Design

Panelists

Advocacy

Actual Play
"Naomi is endlessly inventive and witty and smart and intensely kind which in horror is as rare as it is vital." - Alasdair Stuart, EA Podcasts
Contact
If you would like to hire Naomi or discuss your project, please get in touch!